Home
Main content starts here, tab to start navigating
Slide 1 of 16
Slide 2 of 16
Slide 3 of 16
Slide 4 of 16
Slide 5 of 16
Slide 6 of 16
Slide 7 of 16
Slide 8 of 16
Slide 9 of 16
Slide 10 of 16
Slide 11 of 16
Slide 12 of 16
Slide 13 of 16
Slide 14 of 16
Slide 15 of 16
Slide 16 of 16
Pot Still Irish Whiskey Tasting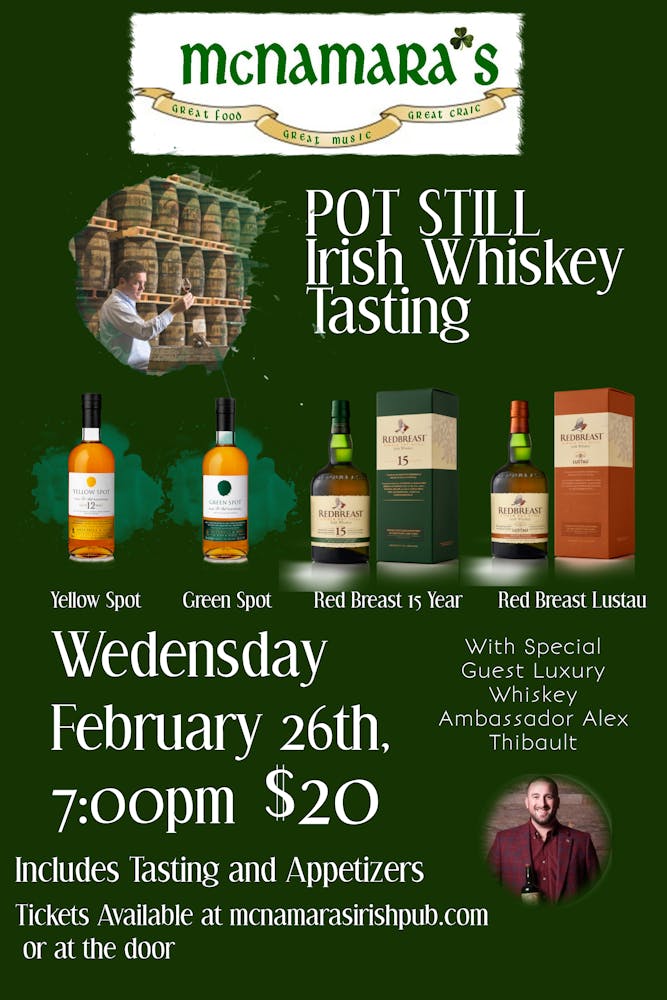 Join us for an Exclusive Pot Still Irish Whiskey Tasting on Wednesday, February 26th at 7:00pm. Our special guest is Alex Thibault, the Luxury Whiskey ambassador for Pernod Ricard's Continental Division who has spent years as an educator of Irish Whiskeys. We will Feature Yellow Spot, Green Spot, Red Breast 15 Year and Red Breast Lustau. Tickets are $20.
McNamara's Irish Pub & Restaurant​​
"One Of The Best Irish Restaurants & Pubs In America"
Great Craic
Craic:
A term used to describe fun, entertainment and enjoyable conversation
Join the Craic at McNamara's and experience authentic Irish hospitality in Nashville
Calendar
Great Happy Hour
Brews, Libations & Happy Hour